Corene "Renie" Amoss graduated from Goucher College in May of 1993 following a college career that was spectacular by any measure. She had earned a 3.7 overall grade point average as an honors student in economics and management and was a stellar athlete, earning All America status as a four year starter in field hockey and basketball and lighting up the courts as the tennis team's number two player. Her statistics in every sport were amazing, and evidence of her excellence can be found on many of the plaques that adorn the walls of this Sports and Recreation Center, as well as on the scoreboards dedicated to her on the field hockey field and in the main gymnasium.
But the true measure of Renie the person can be found in the strength of her everlasting impact in the hearts and minds of the people who knew her. She was truly special. Personality and charisma defined her. She had an infectious laugh and an enthusiasm for even the most mundane of events, which to her offered the opportunity for many a story. And, she was one of the best at story telling! Her competitive fire burned bright, and in games and practices she constantly pushed her teammates to higher levels. She valued academics and athletics equally, and showed how it was possible to balance and excel at both things. Most of all, she valued the people in her life, her family, her friends; and she made it clear through her actions that very day was just another adventure to be lived to its fullest extent.
Renie was tragically killed in a car accident two weeks after graduation. Those who knew her felt then, and continue to feel, a very great sense of loss. One of the ways to honor her memory has been this race, the "Renie Amoss Memorial Run Walk." All proceeds benefit a prize fund, which is given to a current Goucher student and presented during the awards ceremony after the race. The race has become a happy tradition at Goucher, and many alums, family and friends return to campus each year to participate. We are grateful to all of those who join us for this event.

Short List of Renie's Accomplishments
Renie attended Goucher from 1989-1993. Died May 27, 1993 in an auto accident shortly after graduation.
– Academic All-American in Basketball, Field Hockey and Tennis with a 3.7 GPA.
– 1993 NCAA Women Athlete of the Year in Maryland
Basketball:
– Goucher College's all-time leading scorer with 2220 points and a 23.1 PPG career average
– Led the nation in freshman scoring when a freshman
– Capital Conference MVP for 1993
– All American recognition
Field Hockey:
– Goucher College's all-time leading scorer in field hockey
– 1993 First Team All-American
High School:
– 4 sport athlete at Kennett High School
– Basketball team won 3 Conference and District Titles
– All Conference in basketball and field hockey
Renie was one of 5 children and was a natural leader; intelligent; & fun loving. She had a short but full life and made many lasting impressions.
The run began in October 1993; is strongly supported by the College Administration; and sponsored by the Athletic Department. Sally Baum (Tennis) and fellow coaches initiated the event, and Sally continues to coordinate it each year. Some participants are serious runners and enjoy the prizes that are awarded at the post-run ceremony. While most participants just enjoy the cordial social atmosphere of the walk around the Campus, and the raffle prizes after the exercise.

A Brief Video About Renie
Articles About Renie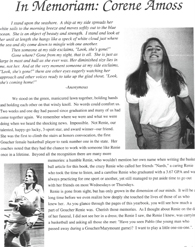 ( Click to enlarge: Page1 )